NEC Phone Systems
SL1100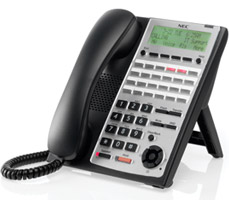 NEC's SL1100: Powerful communications for a small business budget – SL1100 offers a wide-range of intuitive features that can be tailored to an individual's role. This customization enables your employees to be more efficient and productive, no matter their location.
UX5000

UX5000 IP Communication Server UX5000 provides the latest Voice over Internet ProtocoI (VoIP) technology and comprehensive desktop solutions to deliver superior performance, efficiency, flexibility, and reliability when and where you need it.
Aspire M/LG
Aspire M/LG is a family of telephone systems ranging in size from four extensions to hundreds of extension tailored to meet the communication needs of your ogranization. Aspire allows you to combine your telephone and comuter networks while enjying the hundreds of features you've come to expect from traditional phone systems.
Aspire S

Aspire S
delivers many of the high-powered features of the Aspire but in a package tailored for companies using 24 phones or less. Networking to the Aspire using Voice-over Internet Protocol (VoIP) makes Aspire S a great system for the small,home or branch office.
I-Series

The I-Series ISDN comaptible office communication systems from NEC are ready today to meet the challenges of tomorrow. Unique multi-processor architecture, enhanced with Digital Signal Processor techonogy, provides a solid yet flexible foundation for reliability and preformance.